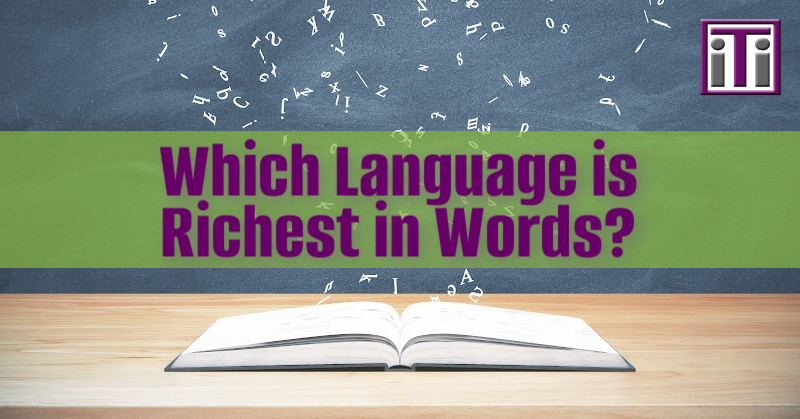 Have you heard language experts say that English has more words than other languages? The claim is made but it's practically impossible to verify.
Steven Frank, the author of The Pen Commandments claims that English has 500,000 words with German having about 135,000 and French having fewer than 100,000.
But wait…
A blog post for The Economist agrees that English is rich in vocabulary, but comparisons with other languages can't be made for several reasons.
The simplest problem in comparing the size of different languages is inflection.
Do we count "run", "runs" and "ran" as three separate words? Another problem is multiple meanings. Do we count "run" the verb and "run" the noun as one word or two? What about "run" as in the long run of a play on Broadway?
According to a recent NPR article, "run" has at least 645 different meanings!
When counting a language's words do we count compounds? Is "every day" one word or two? Are the names of new chemical compounds words? Answering the question, "What is the richest language?" becomes more and more complicated.
Estoy, Estás, Está—One Word or Three?
Some languages inflect much more than English. The Spanish verb "estar" has dozens of forms—estoy, estás, está, "I am," "you are," "he is" and so on.
Does that make Spanish richer in word count?
Some languages inflect much less (Chinese is famously ending-free). So, whether we count inflected forms will have a huge influence on final counts.
Moreover, many languages habitually build long words from short ones.
German is obvious; it is a trifle to coin a new compound word for a new situation. For example, is the German Unabhängigkeitserklärung—declaration of independence—one word?
Given the possibilities for compounds, German would quickly outstrip English, with the constant addition of new legitimate German "words", which Germans would accept without blinking.
A Sentence that Translates as One Word
The Turkish language is similar in this way.
Turkish not only crams words together but does so in ways that make whole, meaningful sentences.
"Were you one of those people whom we could not make into a Czechoslovak?" translates as one word in Turkish.
You write it without spaces, pronounce it in one breath in speaking, it can't be interrupted with digressions, and so forth.
How Many Words in the Dictionary?
Another way of measuring the vocabulary in a language and comparing counts is by counting the number of words listed in a standard authoritative dictionary in that language.
From a list on Wikipedia, here's one such comparison. This is a list of dictionaries considered authoritative or complete by approximate number of total words or headwords, included.
These figures do not include entries with senses for different word classes (such as noun and adjective) and homographs.
Wikipedia says it's possible to count the number of entries in a dictionary, but it's not possible to count the number of words in a language.
| | |
| --- | --- |
| Language | Words in the Dictionary |
| Korean | 1,100,373 |
| Japanese | 500,000 |
| Italian | 260,000 |
| English | 171,476 |
| Russian | 150,000 |
| Spanish | 93,000 |
| Chinese | 85,568 |
Which language has the most words? Maybe it's English.
The Oxford Dictionary says it's quite probable that English has more words than most comparable world languages. The reason is historical.
English was originally a Germanic language, related to Dutch and German. English shares much of its grammar and basic vocabulary with those languages.
After the Norman Conquest in 1066 English was hugely influenced by Norman French, which became the language of the ruling class for a considerable period, and by Latin, which was the language of scholarship and of the Church.
Very large numbers of French and Latin words entered the language. This melding of languages means English has a much larger vocabulary than either the Germanic languages or the members of the Romance language family according to Oxford.
English builds its vocabulary through a willingness to accept foreign words. And because English became an international language, it has absorbed vocabulary from a large number of other sources.
So, which language is richest in words?
Let us ask a different, and we think more important question:
Does it really matter?
Whatever languages you translate or interpret in—Chinese, Japanese, Russian, sign language, or others—you are bound to have a rich body of words to work with.
But if you want to dig deeper into the subject, check out Part 2 on the Arabic language, in which we attempt to answer the question, "How many words in the Arabic language?"
About Interpreters and Translators, Inc.
iTi's dedicated and experienced team offers a wide range of multilingual solutions for domestic and global corporations in a variety of industries. Do you require translation services to enhance your global marketing and sales initiatives or interpreter services to communicate across languages? We specialize in custom language solutions and work with over 250 languages so regardless of the barrier you face, we will work together in synergy to bridge the gap to ensure success.
This article was originally published March 7, 2018; it has been updated for freshness and readability. 
Sources: