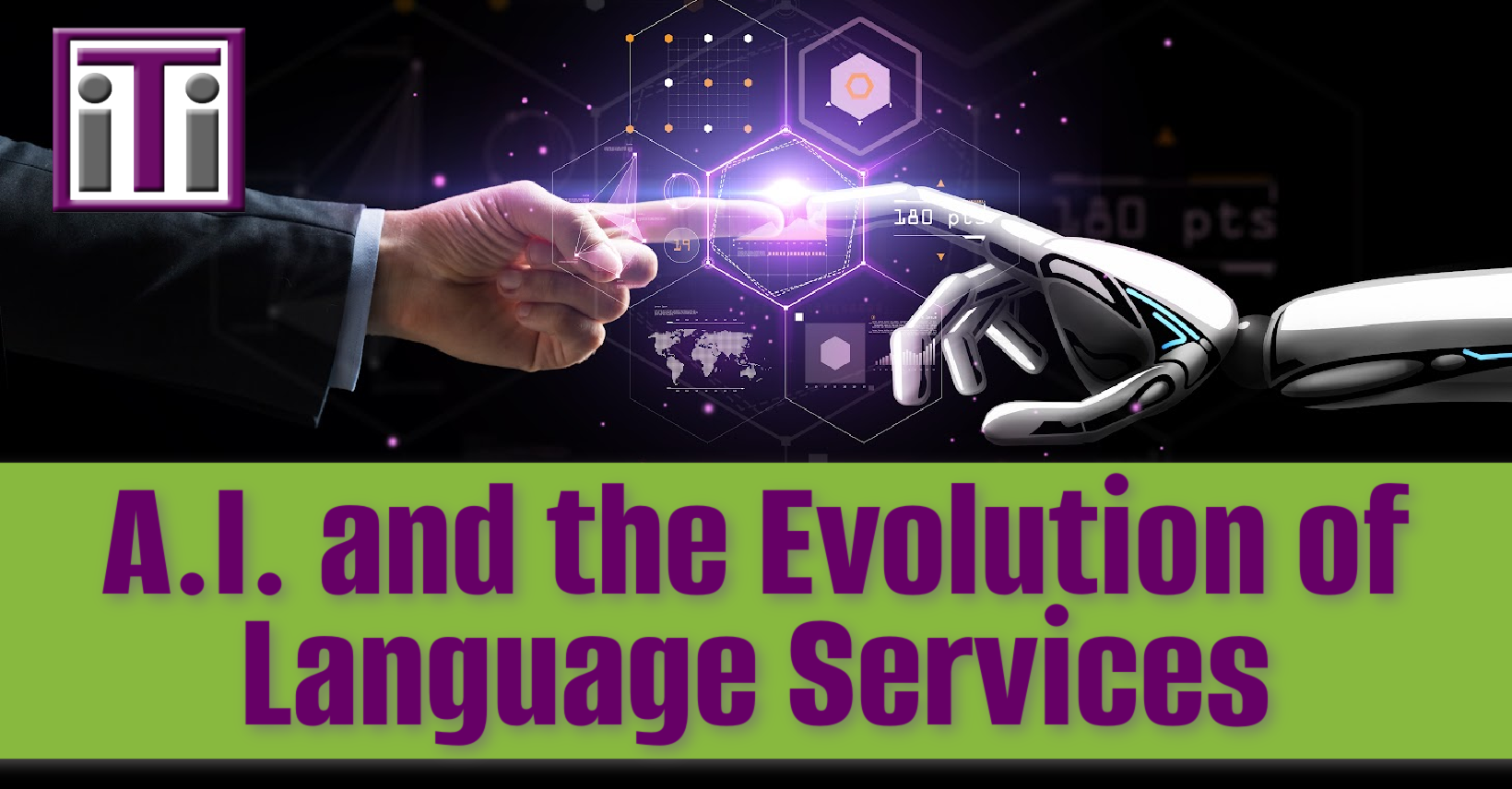 Artificial Intelligence: The words send a ripple of excitement through industries around the world, and for those in language services, it signifies both challenges and opportunities. In an era dominated by rapid technological advancement, the language service industry is not exempt from transformation. The rising prominence of Artificial Intelligence (AI), particularly Generative Artificial Intelligence (GenAI), has sparked a fascinating evolution in the domains of translation and localization.
Interpreters and Translators, Inc. (iTi) has long been a strong proponent of human translation, but as the technology advances, it's impossible to ignore the fact that GenAI will play an increasing role in the future of language services.
So, how will Language Service Providers (LSPs) like iTi adapt and evolve?

The New Frontier: Generative Artificial Intelligence
CSA Research recently published an intriguing article that had industry CEOs reflecting on GenAI's potential in the language service domain. It revealed insights that every LSP should be considering. The piece titled, "CEOs Reflect on GenAI – July 2023", is packed with illuminating perspectives.
One striking quote from the article, by Konstantin Loseliani of Janus Worldwide, states, "Time-tested business strategies may no longer be effective. It is crucial to be flexible, respond to change, and develop the ability to anticipate trends. One must not be afraid of change and should be able to identify new opportunities in any transformation."
AI in Translation: The Rise of PEMT
Post-Editing Machine Translation (PEMT) has become an integral component in the translation process. With AI at the helm, machine-generated translations have become more accurate and nuanced. Lionbridge, a Massachusetts-based language service company and an early adopter of PEMT, states that this service helps them deliver translations with faster turnaround times and lower costs by combining machine translation and human expertise.
AI's Impact on Localization
Localization isn't just about translating words; it's about ensuring that content resonates with the target audience culturally and contextually. At iTi, we maintain that human translators who are native speakers of a language, and who have lived an been educated in the region where the language or dialect is spoken, will always have more cultural fluency than an AI tool.
However, Artificial Intelligence can assist translators by analyzing changes in local trends, preferences, and cultural nuances.
To cite the article again, CEO Paul Carr was quoted as saying, "The localization landscape is about to change dramatically. Localization leaders need to be out in front to ensure they are well-positioned to help their corporations take advantage of the opportunities that generative AI presents."
The Human Touch in the Age of AI
With all the advancements and benefits brought about by AI in translation and localization, there remains an irreplaceable element: the human touch. AI might generate content, but the essence, the nuance, and the emotion are best captured and refined by humans.
As Scott Klein, the CEO of LanguageLine Solutions states in the CSA Research article, "Human oversight and quality assurance processes should play a crucial role in ensuring that translations are accurate, culturally appropriate, and contextually relevant."
Final Thoughts
The integration of Artificial Intelligence into the language service industry is not a mere trend; it's a transformational shift. While AI, especially GenAI, offers powerful tools, it's the collaboration between humans and machines that will define the future of translation and localization.
As Dominic Laporte, CEO of Translation Bureau of Canada, states: "Linguistic services providers need to fight the popular belief that artificial intelligence has triggered a downward spiral for language professions. Now more than ever, we must focus on marketing and education with not only our clients, but also the future generations of language professionals we desperately need."
iTi is excited to consider how we will grow as part of this evolution, harnessing the power of AI while preserving the invaluable human touch that makes language services truly resonate. To learn more about translation, localization or any of our language solutions, click the link below or call us directly at 860.968.6777.