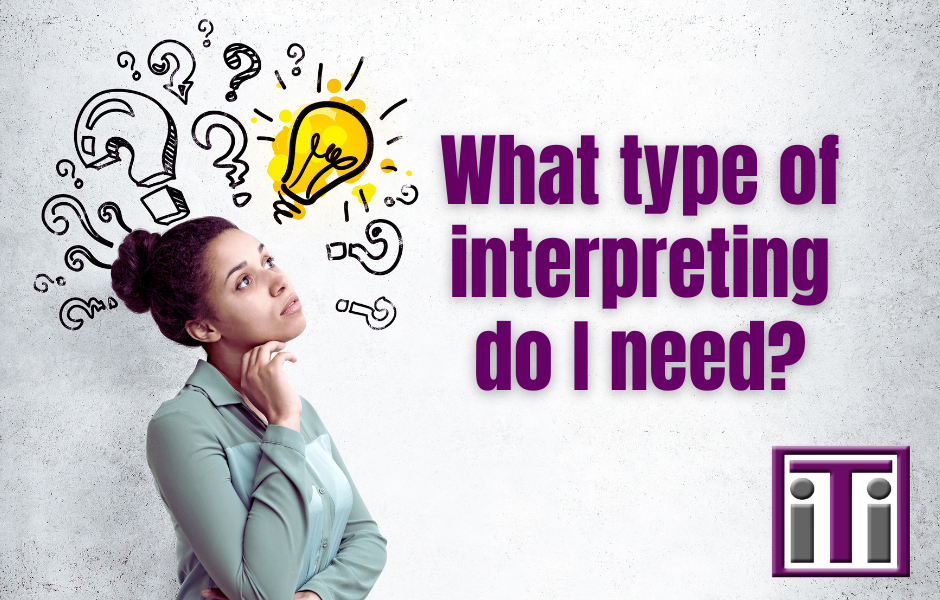 You know you need an interpreter, and you have found listings for several companies that provide them.
But what type of interpreter service do you need?
When you are looking for professional interpreting services, it is helpful to know exactly what to ask for. You will need to determine both the interpreting style and interpreting service that is most appropriate for your particular situation.
Are you conducting training for your overseas staff? Are you negotiating with a company based in a different country? Perhaps you're hosting or giving a presentation at an international conference.
With any activity that involves people with a spoken language other than English, the interpreter's role is pivotal. Understanding that role will help you make the right decision about interpretation services.
Interpreting Styles
There are two basic styles of interpreting: consecutive interpreting and simultaneous interpreting.
Consecutive Interpreting
During consecutive interpreting, the speaker will pause after a sentence or a few phrases to give the interpreter time to repeat what has been said in the listener's language. This is the most commonly used style of interpreting, and works well with one-on-one conversations or with small groups.
Simultaneous Interpreting
In simultaneous interpreting, the speaker does not pause. The interpreter conveys the message with a delay of only two or three seconds. This is a highly specialized skill and even the most experienced simultaneous interpreters must remain extremely focused throughout the interaction. With longer assignments, interpreters will often work in teams, switching places every 30-45 minutes in order to take breaks as needed.
Simultaneous interpreting is used when the speaker, for whatever reason, is not going to pause, such as when giving a speech, seminar or sales presentation. It is often used in conference setting, and is equally effective for large business meetings and during courtroom proceedings.
Interpreting Services
In-Person Interpreting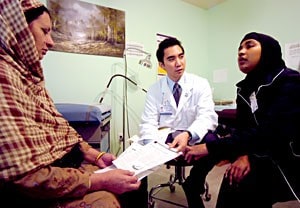 No matter how much virtual meeting technology has improved, in-person interpreting is always the most effective, although it may not be the most practical choice. When the interpreter is in the room with all parties, they can easily observe body language and tone. In one-on-one or small group sessions, the physical presence of the interpreter can make it easier to establish rapport.
Most language services companies require all in-person interpreting assignments to be pre-scheduled. A small percentage, like Interpreters and Translators, Inc., will accept on-demand requests in geographic areas where interpreters are available.
Under circumstances when only face-to-face interactions will do, such as urgent situations at mental health facilities, access to in-person interpreting at short notice is a vital consideration.
Video Remote Interpreting (VRI)
When it's not possible or practical to have an in-person interpreter on site, Video Remote Interpreting is an excellent choice. The interpreter appears on a video screen, and can also see the parties having the conversation. Among VRI's earliest adopters were healthcare organizations, especially large hospitals and systems, where there is a high volume of patient interactions.
While VRI can also be pre-scheduled, one of its best features is that it is easy to access on-demand. In its early years, special equipment was needed to use VRI. Today, some language service companies, including iTi, make VRI available using any smart device. The only requirement for a smart device is having a reasonably strong signal. Being able to access an interpreter on-demand from a mobile phone or tablet means VRI is highly portable.
Also, because it is visual, VRI can be used for American Sign Language (ASL) interpreting. This fulfills the accommodation requirements for the deaf and hard of hearing as mandated by the Americans with Disabilities act.
If you need on-demand services outside of business hours, be sure this is something your language service company can accommodate. At iTi, our VRI service is available in our most commonly requested languages, including ASL, 24/7/365.
Over-the-Phone Interpreting (OPI)
An Over-the-Phone Interpreting session is essentially a conference call in which one of the parties is an interpreter. As with the other services, OPI can be prescheduled, but where it really shines is in unplanned interactions. If a business or government agency receives an incoming call from a non-English speaker, they can connect to the interpreter with the push of a few buttons.
OPI is typically the fastest and most economical interpreting service. At iTi, our OPI service is available in over 250 languages 24/7/365, and our response times are lightning-fast.
See our related post on over the phone interpreting.
Combine Styles and Services for the Win
Check out this chart to decide which language interpreting combination to ask for when choosing a language services company: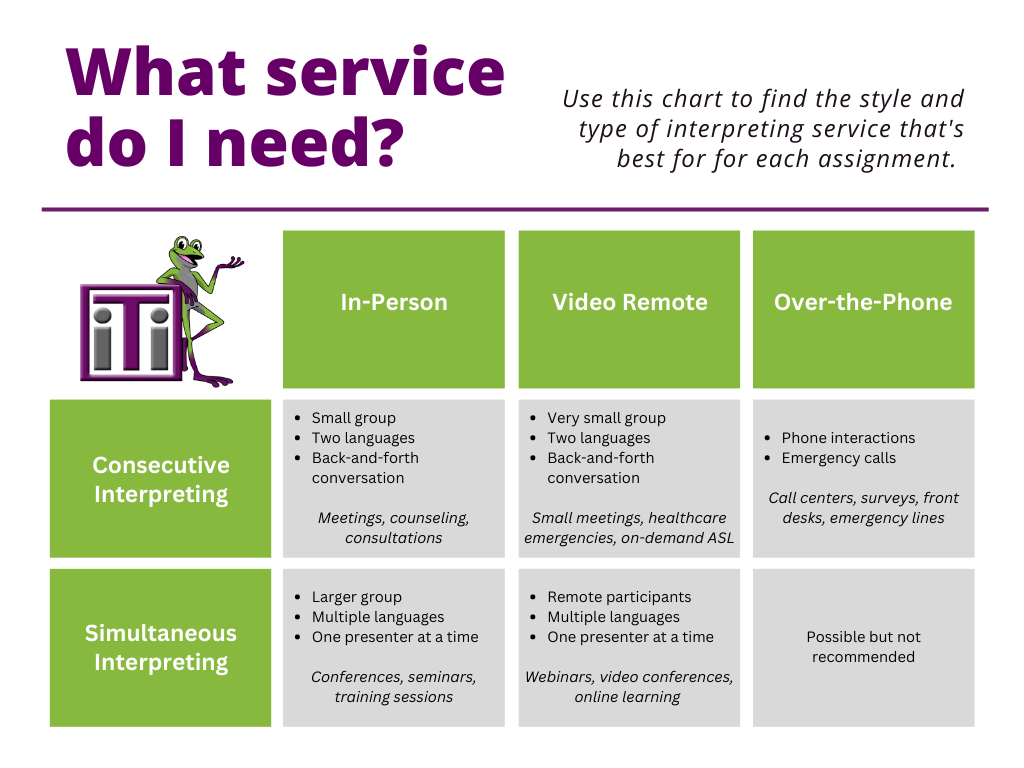 Want to know more? Tells us about your language needs using the link below and one of our language services specialists will get back to you right away. Or, call us directly at 860.968.6777. We look forward to speaking with you.
About Interpreters and Translators, Inc.
iTi's dedicated and experienced team offers a wide range of multilingual solutions for domestic and global corporations in a variety of industries. Do you require translation services to enhance your global marketing and sales initiatives or interpreter services to communicate across languages? We specialize in custom language solutions and work with over 250 languages so regardless of the language barriers you face, we will work together to create a custom solution.