FAQ – Video Remote Interpreting Services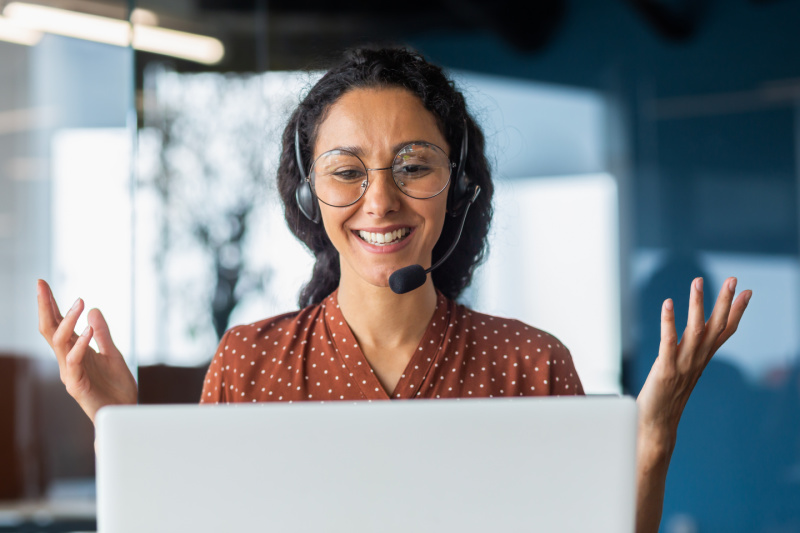 CSA Research[1] noted that in the summer of 2020, demand for Video Remote Interpreting had more than tripled over the prior year. Many, if not most, businesses have used some form of virtual communications over the past several years. As organizations continue to convert jobs to remote and hybrid models, and workforces and client bases become more diverse, the need for VRI continues to increase.
What is Video Remote Interpreting?
Video remote interpreting (VRI) is a service that connects you with a live interpreter on-screen via a video interface. VRI sessions can take place on just about any device with a camera, microphone and screen, making them incredibly convenient in a variety of situations.
How does Video Remote Interpreting work?
Depending on which video remote interpreting company you choose, your VRI service can be accessed via an online or downloadable program. iTi's VRI solution is provided via a secure and encrypted platform that is simple to use. When you select the desired language you will be connected with a live interpreter, typically within less than thirty seconds. For less common languages, you may first be connected with a live operator or coordinator who will then complete the connection.
When is Video Remote Interpreting used?
VRI is the best solution any time it is not practical to have a qualified in-person interpreter present. Here are some ways different organizations use video remote interpreters:
Virtual Conferences.  Connecting with your employees or clients remotely has become increasingly popular, and interpreters can attend via streaming conference platforms such as Zoom, WebEx, Teams, etc.
In-Person Meetings. If anyone in your meeting has limited English proficiency or is deaf/hard-of-hearing, a qualified interpreter can join you via a computer, tablet or smart phone.
Public Events. Video remote interpreting for ASL (American Sign Language) is especially popular to assist deaf and hard-of hearing attendees at events ranging from graduations to concerts. ASL interpreters can be projected live on-screen alongside the speakers or performers.
Urgent Scenarios.  When an interpreter is needed quickly, VRI can be accessed on any device with a video interface within seconds. See more about this in the next two sections.
Check out these "Tips for a Successful Video Remote Interpreting Session".
Who uses Video Remote Interpreting?
Any business or organization, public or private, may have the need to communicate with limited English proficient (LEP) or deaf/hard-of-hearing employees, clients, or prospects. Here are some examples.
Does Video Remote Interpreting need to be pre-scheduled?
No, VRI is available both on-demand and prescheduled, depending on the scenario.
On-Demand VRI works best for unexpected and emergency situations, and is especially popular with healthcare organizations. On-demand video remote interpreting is also gaining traction with first responders, for whom getting information as quickly as possible is vital.
Prescheduled VRI is a great alternative when an interpreter with specialized knowledge (legal, engineering, scientific, etc.) is needed. Often a client will wish to request an interpreter with whom they have already built rapport during previous assignments.
What are the benefits of Video Remote Interpreting?
When VRI users are asked what they like best about VRI, the answer is often "convenience." While this is the obvious answer, there are a few more advantages to consider.
Visual Communication.  VRI allows both the interpreter and the clients to see one another. The ability to evaluate visual cues like body language, posture and facial expressions greatly improves understanding. And, of course, the use of ASL requires that interpreters be visible. Note: There are scenarios when over-the-phone interpreting (OPI) is an excellent alternative, as outlined in this article. 
Safety.  While COVID-19 restrictions have been greatly curtailed, there are still situations when health or other safety issues make it desirable for conversations to take place remotely.
Efficiency.  Having an interpreter available in under 30 seconds naturally increases efficiency. One iTi healthcare client logged 3,500 minutes of consults in a 10-day span when they first deployed the solution.
Availability. In the case of rare languages, or those for which demand can be greater than the supply of qualified interpreters, the option to connect remotely greatly increases the number of interpreters available. Physical distance is no barrier with VRI.
Is Video Remote Interpreting Secure and Confidential?
If security and confidentiality is an issue, it's important to work with a virtual remote interpreting supplier who has measures in place to ensure your information is protected. iTi's VRI service uses end-to-end encryption, which makes it save even on public Wi-Fi.  Additionally, our VRI security measures include password protection, a virtual waiting room, link expiration and more.
What equipment do I need for Video Remote Interpreting?
No special equipment is required for VRI, which means no extra cost. Any internet-connected device with a camera, microphone and video display will work. Computers, smart phones and tablets are all viable for VRI.
When a connected device may not be practical, iTi can provide a portable device on wheels that can be moved to wherever it's needed. These "Terpii carts" are widely used by our healthcare clients in emergency rooms and operating rooms.
How do I get started with VRI?
We're here to help! We have more than 10,000 linguists and interpreters that work in more than 250 languages, available 24/7/365. Click on the link below and let us know about your questions and language services needs, and an account representative will get back to you very soon.