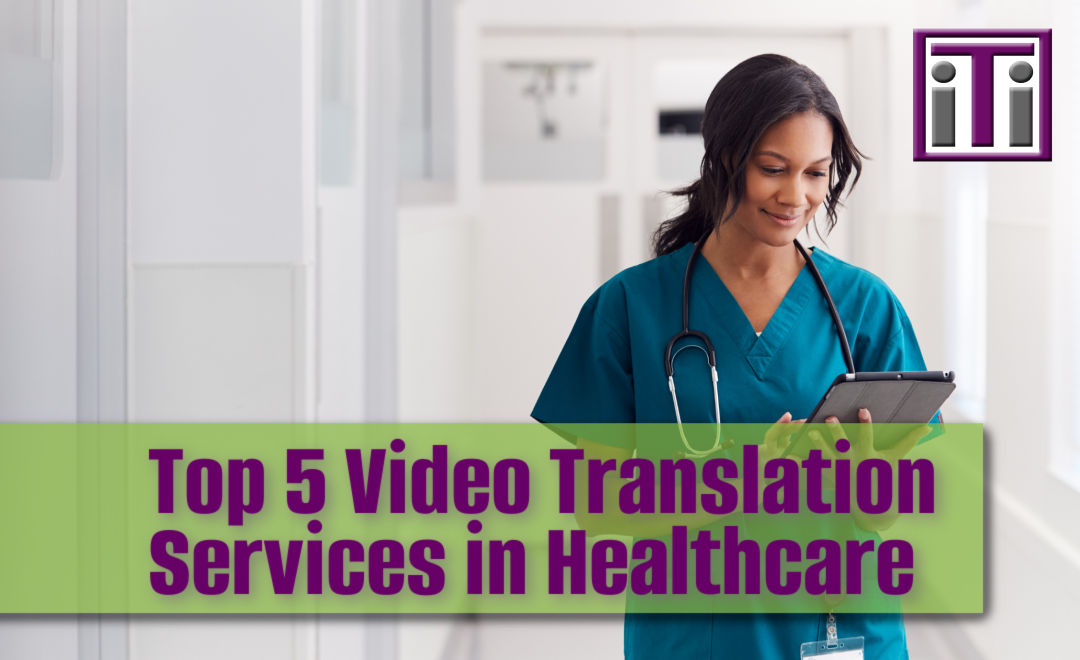 Life expectancy in the U.S. fell by 1.5 years in 2020, the biggest decline since World War II, according to new data from the Centers for Disease Control and Prevention (CDC).
What does it all mean for the future? Overcoming language barriers in healthcare – whether it be Limited English Proficient patients or deaf/hard-of-hearing individuals – is more crucial than ever. Here are the top 5 video translation services in healthcare that help overcome language barriers and improve patient satisfaction.
1) Video Remote Interpreting (VRI)
Video Remote Interpreting tops the list of the top 5 video healthcare translation services. It is the number one thing people think of when they hear the phrase 'video translation services' because its use has grown exponentially since the onset of the pandemic.
You have probably heard of it if you're reading this blog, but calling VRI "video translation" is a misnomer. The reason is that Interpretation works with the spoken word, while translation deals with text. Many people make this error — unless you work in the language services industry, it's not surprising you aren't familiar with the distinction.
What you need to know is Video Remote Interpreting is when an offsite interpreter is connected to a third party and a source language speaker via video using a computer, tablet or smart phone. Video Remote Interpreting services are used when an in-person interpreter is not practical.
The biggest reason VRI increases patient experience in healthcare and patient outcomes is that body language is a critical aspect of interpretation. This is especially true when interpreting in American Sign Language (ASL). The ability to see an ASL medical interpreter's movements and expressions is essential because ASL has its own grammar, syntax, and sentence structure.
Nothing can replace in-person interpreting in that regard, but VRI is the next best thing. Qualified Medical VRI interpreters have undergone many hours of training and are bound to confidentiality agreements and HIPAA regulations. VRI is the clear top choice when considering the top 5 video translation services in healthcare.
Need video translation services for your healthcare facility?
Get access to10,000 linguists at the click of a mouse
Video Remote Interpreting is accessible to patients anywhere in your healthcare facility thanks to these rolling carts.
2) CART Services
There are about 11 million Americans who are either functionally deaf or hard of hearing. Worldwide that number is more than 400 million, according to the World Health Organization (WHO). Communication Access Real-Time Translation, or CART, is a speech-to-text process designed to assist these individuals.
The National Court Reporters Association defines CART as "the instant translation of the spoken word into English text using a stenotype machine, notebook computer and real-time software." The captions, generated instantaneously, can be projected onto a screen or sent to the patient's computer to facilitate interaction with a doctor."
Access to healthcare for deaf and/or hard-of-hearing people is often overlooked, but it is an enormous issue. The American Journal of Preventive Medicine reports that deaf and/or hard-of-hearing individuals go to the doctor less often and make more trips to the emergency room.
CART services are also necessary to help organizations remain compliant with the Americans with Disabilities Act. While it is true that an ASL medical interpreter is often used in a healthcare setting, the majority of deaf and/or hard-of-hearing people rely on CART services.
Why? Gallaudet University, the world's only higher-learning institution dedicated to deaf people, estimates 250,000-500,000 people use American Sign Language. That is a mere fraction of the deaf and/or hard-of-hearing population in the U.S. CART services are essential for the millions of others who do not know ASL.
The biggest benefits of video translation services in healthcare:
Reduces Treatment Hesitancy
Improves Health Literacy
Combats Medication Misuse
Meets Compliance Requirements
Enhances Patient Outcomes
3) Video Transcription
Video transcription refers to a written record of patient/caregiver interactions during a VRI session.  Transcription services in healthcare are essential to meet HIPAA compliance requirements and keep Electronic Health Records updated.
Moreover, they help fill in the blanks if the patient or their family members have any uncertainty about what was said during the session, eliminating confusion and anxiety.
The importance of an accurate video transcription is crucial considering that medical terms and medicinal titles used in the U.S. aren't necessarily the same in other cultures. iTi's localization experts know the right words to use and ways to use them.
4) Subtitling
The most famous and most recent example of translation in subtitling comes from … Netflix, where else?
The streaming giant has expanded globally by dubbing and using subtitles for its most popular shows. All due respect to Netflix, subtitling in healthcare is of much more significance.
Subtitle translators for Limited English Proficient and deaf/hard-of-hearing patients understand their symptoms, as well as the healthcare facility's policies and procedures.
Health literacy is a huge issue in the U.S. Nearly 36% of adults in the U.S. have low health literacy, according to the Center for Health Care Strategies. Meanwhile, 44.9% of Limited English Proficient adults have low health literacy, according to a study in the Journal of Health Communication.
5) Voiceover Translation
Voiceover translation is used to translate pre-recorded video content. Actor voices are recorded over the original audio in the target language.
Voiceover translation differs from dubbing because the original audio track can be heard in the background and "phrase-sync" style is used to craft the new audio.
This process differs from a lip-sync voiceover and is commonly referred to as UN-style (it's used by the United Nations). UN-style voiceovers involve timing the transcript to match the original speaker's speech pattern and pace.
Like subtitling, voiceover translation is used in healthcare to help Limited English Proficient patients understand important public health messages, best practices and policies.
Whether you choose to dub or use voiceover translation, captions are also necessary in a healthcare setting in order to accommodate deaf and hard-of-hearing patients.
Need video translation services for your healthcare facility? iTi has 10,000 linguists and more than 35 years of experience. Request a quote to get started! Or check out this related post "FAQ Video Remote Interpreting Services".

This article was originally published in July 2021.  It has been updated for readability and freshness.