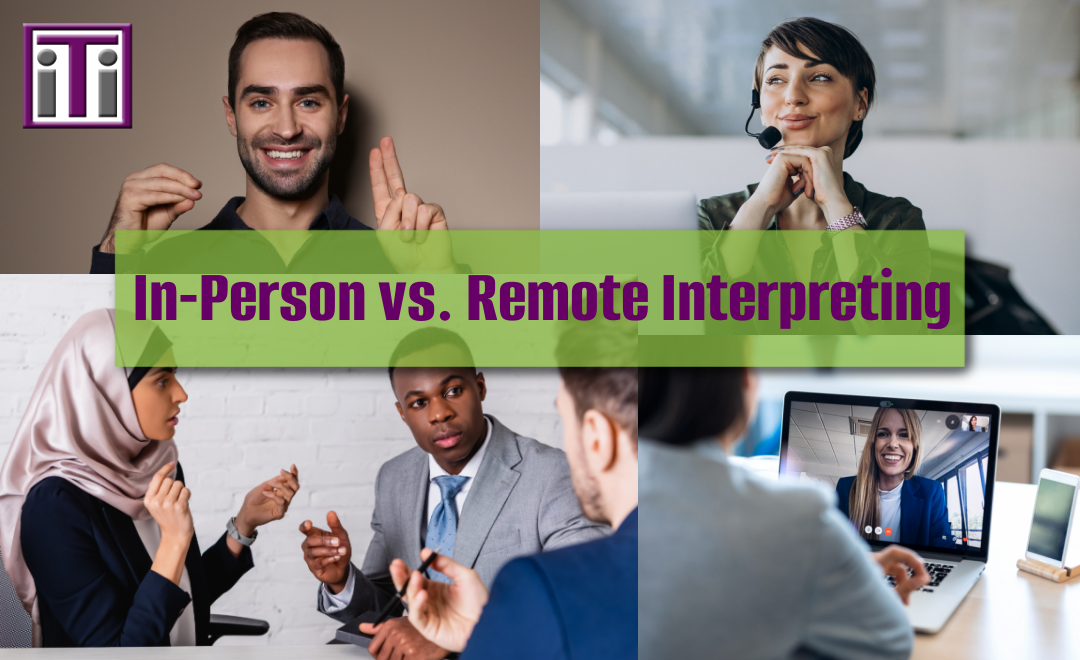 Language services are imperative for businesses today, especially with instant global communication, increased cultural diversity, and cross-border business facilitated by technology.
Among different interpretation services, there are three basic types:  In-person or onsite interpreting services, video remote interpreting (VRI) and over-the-phone interpreting (OPI). Each has its own distinct set of benefits and drawbacks.
Your Best Choice: In-Person Interpreting Services
Generally, in-person or onsite interpreting is the most effective as interpreters can read non-verbal cues. Body language and facial expressions are known to comprise a significant portion of communication.
When it comes situations when an in-person interpreter is not available, or when an onsite interpreting session is not practical, virtual interpreting services are a viable solution. Cost considerations apply to interpreting services as well. In-person interpreting almost always entails higher cost since professional interpreters may need to travel.
VRI or OPI: Which Service is Appropriate for Each Situation?
Both VRI and OPI are easy to access and highly responsive, making them excellent options, especially in emergency cases iTi's VRI services are accessible Monday to Friday from 8:00 am to 7:00 pm, with 24/7/365 accessibility for our most commonly-requested (Spanish and American Sign Language). OPI is also available 24 hours a day, 7 days a week in all languages.
Of the two virtual interpreting services, VRI is the most effective, allowing the interpreter to pick up facial expressions and body language cues. It is also the only virtual solution that will work for American sign language (ASL) interpreting. This option does require a fast and reliable internet connection.
OPI (sometimes called telephonic interpretation or telephone interpreter services) is usually the least expensive option. For interactions that take place over the phone, OPI is an excellent choice, as starting an on-demand interpreting session is as simple as placing a conference call.
Professional Interpreters: Your Key to Success in Critical Situations
No matter which interpreting service is preferred, it is essential to use the services of a professional interpreter. Professionals have the right training and adhere to proper ethics, confidentiality, and culturally appropriate communication, ensuring high quality interpreting and better results. This is especially important in sensitive and critical situations, such as healthcare or legal settings.
Feel free to download and share this infographic: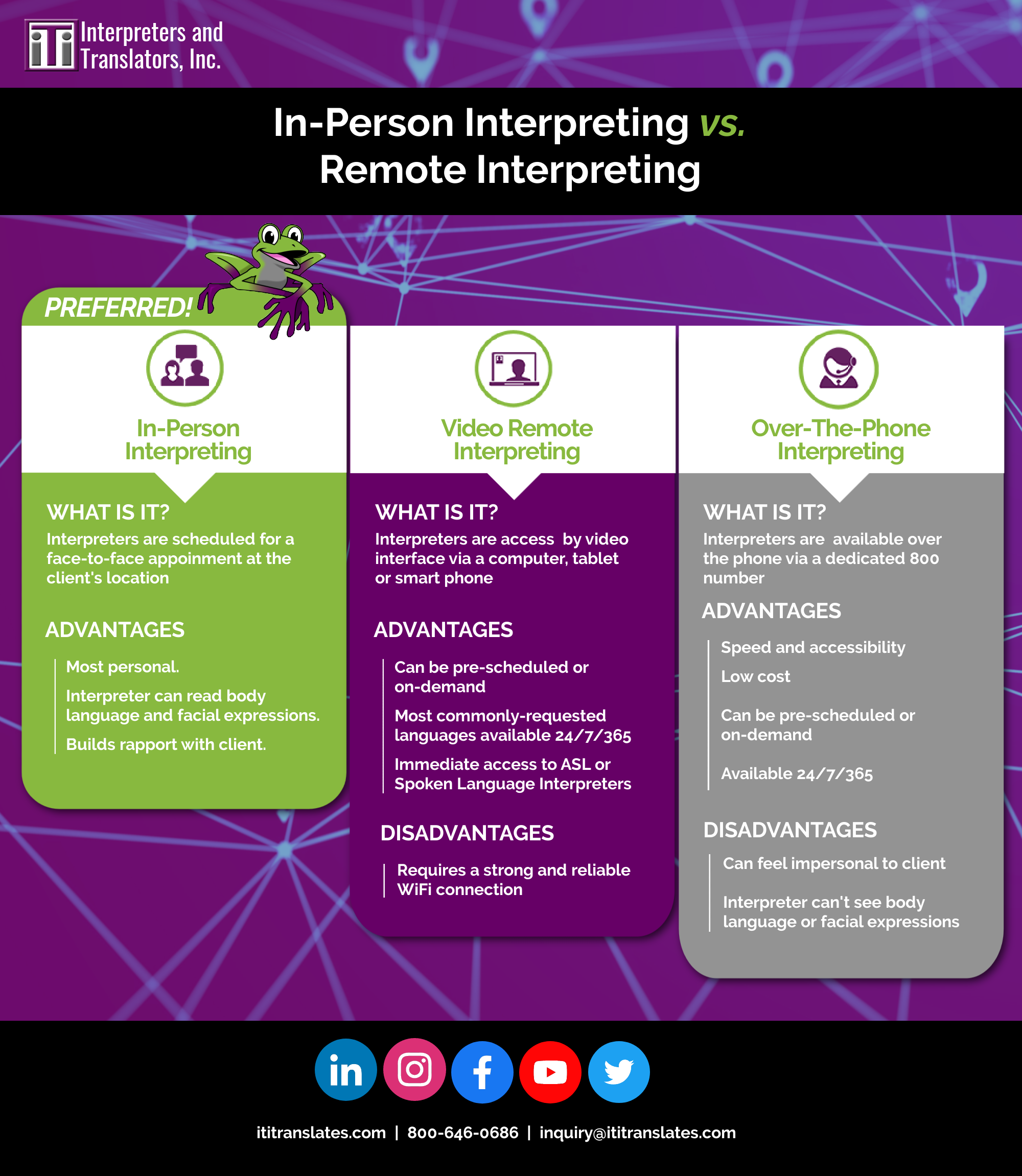 About Interpreters and Translators, Inc.
Interpreters and Translators, Inc. (iTi) delivers a comprehensive suite of multilingual solutions to domestic and global corporations across multiple industries. With expertise in custom language solutions, we offer over 250 languages to help overcome any communication barrier. Whether seeking translation support to augment your marketing and sales initiatives, or interpreter services to communicate across languages and borders, our dedicated and experienced team works together in synergy to ensure success.
If you liked this post, check out "In-Person Interpreting vs Telephone or Video Interpreting Infographic".
This article was originally posted in April 2017.  It has been updated for freshness and readability.