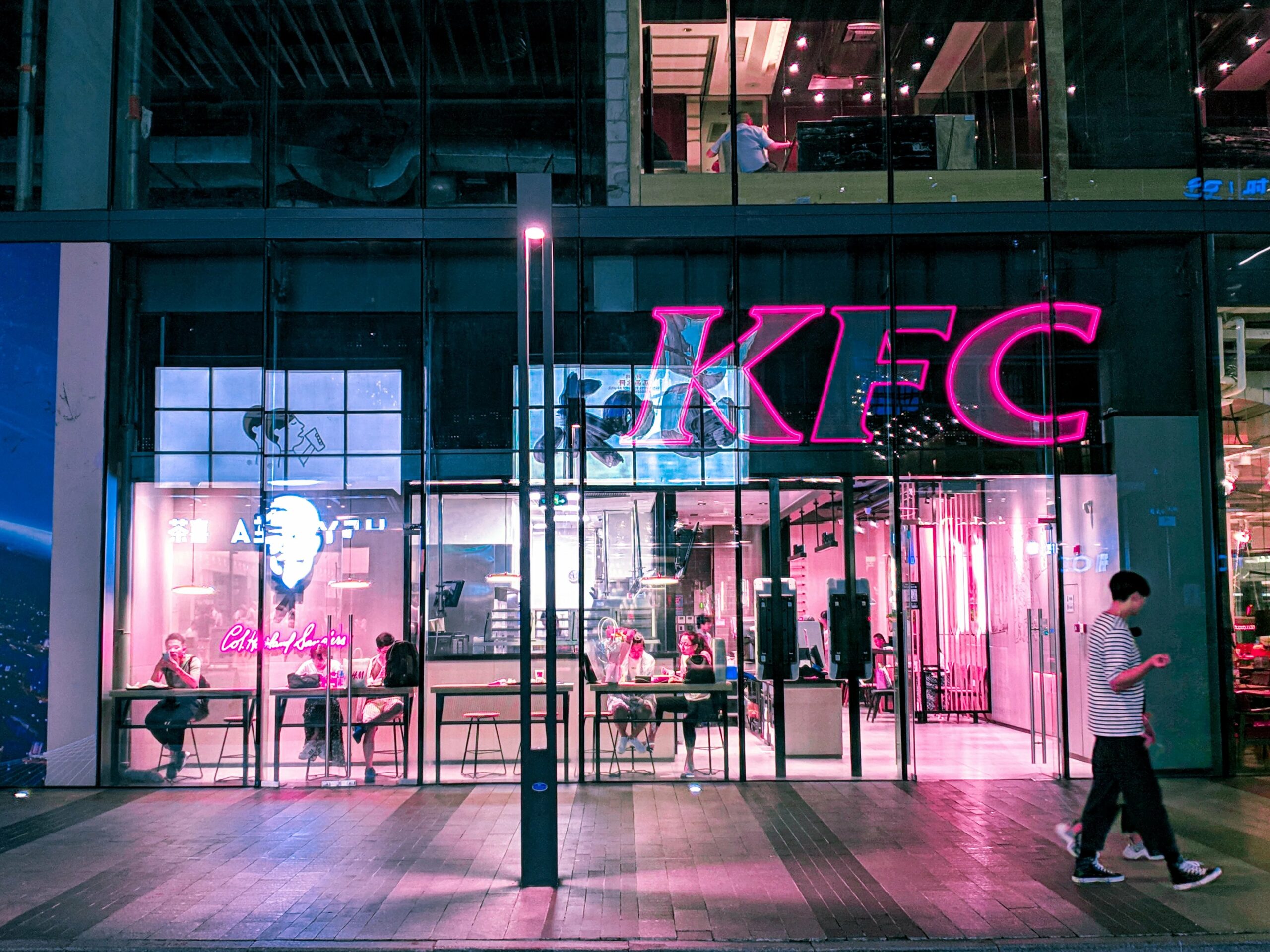 PC 1 – "A Cyberpunk-style KFC restaurant in Guangzhou"
More companies are connecting with consumers on a global level. According to Harvard Business Review [1], "the typical Western approach to foreign expansion [has been] to try to sell core products or services pretty much as they've always been sold in Europe or the United States, with headquarters watching closely to make sure the model is exported correctly."
However, in the race toward globalization, emerging leaders are utilizing a different, more effective approach when developing and deploying global marketing strategies. Companies looking to succeed in the increasingly globalized market would do well to observe these marketing strategy examples to determine ideal methods of adapting and implementing.
Promoting Localization Above and Beyond
KFC is a great example of a business that takes localization to the next level. The company encourages local executives to utilize a dynamic, local-focused approach when implementing policies and practices for locations outside of the United States, allowing franchisees to operate their businesses in accordance with local customs and culture.
KFC's strategy grew out of its operations in China in the early 90s. According to experts at The Harvard Business Review, "the strategy that emerged [from this time] was remarkably clear and embodied five truly radical elements: turning KFC into a brand that would be perceived as part Chinese; expanding rapidly into small and midsize cities; developing a vast logistics and supply chain organization; extensively training employees in customer service; and owning rather than franchising the restaurants."
Expanding Globally by Creating Appeal Locally
With over 22,000 locations worldwide [2], KFC is a notable player when it comes to global expansion. Their global marketing strategy centers around localization – each country with KFC locations has a localized menu that caters directly to unique local tastes and preferences.
There are unique KFC menu items [3] around the world. In the Philippines you can chow down on the double down dog, a hot dog served in a bun made of chicken. Meanwhile, you can enjoy tiramisu at KFC France, load up on nachos at KFC Australia, and at select locations throughout Asia you'll find the Chizza, a pizza-like dish that uses a piece of chicken instead of a traditional pizza crust.
According to Forbes [4], KFC has built different country-based menus using a two-fold approach. 18 food innovation teams are responsible for developing menu items that align well with local tastes and preferences. These teams are made up of "food enthusiasts with deep global experiences and a deeper appreciation for the work they're doing." While innovation is a top priority, the teams must also ensure that the items strictly adhere to KFC brand standards ⎯ the most notable of which are the famous 11 herbs and spices [5] that consumers have come to know and love.
In China, a typical KFC restaurant is about twice as large as a KFC in America [6]. As a patron you'll see that the menu will have more than 50 items, about 20 more than in the United States! KFC food in China will also taste different as it's spiced according to regional tastes. Do you enjoy rice porridge or congee? In China, these are the top-selling menu items at KFC.
KFC knows that success in another market (such as China) means more than just menu translation. The global brand has emphasized adaptability and localization.
PC 2 – KFC restaurant in Tokyo, Japan
Brand Perception and the Implementation of Local Preferences
When considering a marketing strategy, brand perception is a key tenant to success. Positive brand perceptions and interactions attract new customers and encourage existing customers to return for more.
From a globalization perspective, strong branding strategies encourage consumers to accept a foreign brand as being local. Much like KFC, big players are masters of this concept, with experts stating that the greatest tribute to their strategies is that many consumers around the world believe the businesses are local.
For KFC, the implementation of local preferences is key to strong brand perception. KFC's global marketing strategy is a strong example of this because it acknowledges that food and food services are inextricably linked with a country's customs and culture. Rather than attempting to separate the two, KFC pursues avenues of adapting itself to best suit local tastes and preferences, from both culinary and operational perspectives.
The Importance of High-Quality Translations When Communicating with Global Audiences
Effective and accurate communication is a vital aspect for business success, regardless of location, and such communication becomes exponentially crucial for companies expanding into foreign locations.
At best, an inaccurate translation can become a viral joke, and at worst it can cause serious cultural offense and distaste for the brand in question. That's why Interpreters and Translators, Inc. offers high-quality, multicultural language solutions.
Contact us today about how we can help you create effective translations that allow your company to expand to meet the needs of audiences around the world, just like KFC has successfully done. Whether you're exploring new marketing services or looking to improve existing ones, we can facilitate seamless communication on all levels.
Photo Credits
PC 1: Jason Yuen
PC 2: Jezael Melgoza
Sources
[2] Statista 
[3] The Travel
[4] Forbes
[5] The Independent
[6] Business2Community -KFC, China and Localization: Why Translation is Only the Tip of the Iceberg