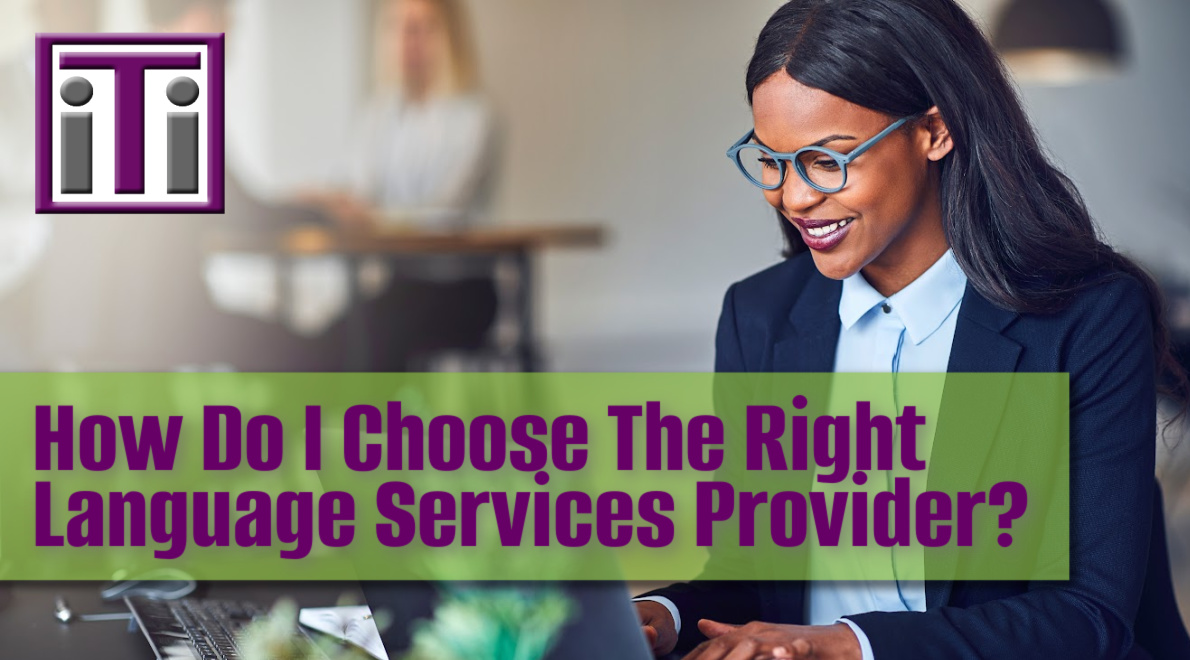 What should you take into consideration when choosing a provider to provide professional translation services? Here are some steps and factors to consider before deciding on a Language Services Provider (LSP).
Get Organized
Put together a list of the types of language services you'll need, and use it to create a document you can share with the LSPs you interview. This will help both you and the LSP accurately evaluate how their services will meet your needs.
Some items to include are:
1. The type of internal support and knowledge your company has for working with an LSP. Do you have multilingual staff? Can you review the translated content to assess its quality?
2. Your budget and time frame. Are they flexible, or do you have a hard deadline? Can you give an absolute funding limit for your translation cost?
3. The specific services you require. Is it simple document translation, or a full-scale localization? Do you require editing and proofreading of your source material? If interpreting, are you looking for in-person or virtual interpreting?
4. The target languages you need interpreted or translated now and in the foreseeable future.
5. The volume of translation projects. How many pages or how much time do you anticipate needing? How often will you need it? What kind of file formats will you be using?
6. The content management, document management or translation management system that you'll use to integrate into the process. Do you need your LSP to work with the project management system you have in place?
7. The type and level of customer service you need. Do you need multilingual, in-country reps to deal with multiple dispersed teams working on different languages individually? Will all correspondence be handled through a single point of contact?
Once you have defined your in-house capabilities and needs, you're ready to start contacting LSPs. Be sure you evaluate each company in at least these three areas:
Quality of interpreters and translators
Delivery of services and
Administration and customer support
Your needs may vary but here are some general questions to ask yourself in each of these three areas. We've adopted much of this information from a U.S. government website.
Quality of Interpreters and Translators
Does the language services provider recruit interpreters and translators on an ongoing basis from a wide range of sources?
How does the LSP screen and evaluate translator and interpreter candidates?
Does the LSP require their interpreters and translators to receive professional training and attend continuing education programs?
Are the provider's interpreters or translators certified and by whom?
What Code of Ethics are the interpreters/translators asked to follow? Ask for a copy a copy and see if you find it suitable.)
What protocols are interpreters expected to use and do those protocols match your needs? For example, a protocol might tell the interpreter what to do if there is a communication breakdown.
How does the LSP provide long-term quality assurance?
Does the LPS offer Certified Document Translation? In other words, will the LSP attest to the accuracy of the certified translation in the case of a legal proceeding?
What mechanisms does the LSP have to instruct interpreters about specific policies and procedures of your organization?
Does the LSP have specialists in the subject matter of the field or industry you need translation or interpretation for? For example, You may need an interpreter who can work in legal, scientific, health care, manufacturing, marketing, etc.
Does the LSP use A.I. or machine translation, or human translators? If you'd like to know more about this important consideration, check out this article on the topic.
Provision of Language Services
How good are the depth, breadth and quality of the language services company's pool of translators and interpreters? For example, if a company only offers Eastern European languages you wouldn't hire them to interpret Japanese.
How responsive is the provider? The provider should track and share information on what percentages of all requests the provider is able to fill.
What are the LSP's turnaround times for document translation?
How competitive are the LSP's no-show rates for in-person interpreters? What percentages of all requests result in no-shows?
How long does it take the LSP's telephonic interpreters to come on the line? For reference, a response time of 45 seconds or less is competitive.
For telephonic interpreters, will you incur any equipment costs and, if so, will those costs improve quality?
In case a disaster strikes, does the language services provider have a disaster recovery system for its telephonic interpreters?
How prepared is the LSP to handle a large volume of calls, track connectivity statistics, and provide accurate billing and reporting?
Does the LSP offer to test translated material? Some LSPs test the accuracy of translated materials via a focus group as part of their service.
Does the LSP offer additional services that would be of value to you?
Administration
How competitive are the company's fees? If you're comparing fees among different LSPs be sure you know exactly what each fee covers.
Are there any additional charges or discounts, such as one-time set-up fees, monthly minimum, volume discounts, cancellation fees, etc.?
What is the LSP's cancellation policy? If you cancel a request for an interpreter, will you be charged?
How long has the language services provider been in business and what's their reputation?
How comfortable are you when you talk to the LSP's representatives?
Will they provide you with a list of referrals? If so, do contact the referrals and ask about their experiences with the LSP.
Is the LSP involved in the translation and interpretation industry? Are they members of national, regional, or local organizations dedicated to the advancement of the interpretation and translation fields?
Finding answers to all these questions may seem like a lot of work. It is. But the more you know about the language services provider before you enter into a contract, the more likely it is that the partnership will be successful.
We hope this article has helped you understand how to best prepare to find the right provider. Check out this related post on "Important Questions to Ask Your Translation Services Provider".  At Interpreters and Translators, Inc., we take pride in offering high quality language services and treating our clients as partners. We are a full-service interpreting and translation company, and can provide all of your multi-cultural language solutions under one roof.
Click the link below and one of our language service experts will be in touch. Or, you can call us directly at 860-968.6777.
This article was originally published in March 2015. Updated for freshness and content June 2023.