How do you treat sick people while preventing healthcare professionals from becoming coronavirus patients? That is the biggest challenge the world is dealing with, and more specifically the United States, which is now facing another critical point in the pandemic.
The way to keep healthcare providers safe now while treating the public is the same as it was three months ago: the telehealth services provided by Interpreters and Translator's Inc.  iTi's platform features little to no start-up costs and has the option to include a team of professional medical interpreters available 24/7 to service more than 250 languages.
The issue of keeping healthcare workers safe is becoming more urgent by the moment, with more than 4 million coronavirus cases in the U.S, according to the New York Times.  Hospitalizations are rapidly rising  and dozens of states are pausing or altering their reopening plans.*
Meanwhile, according to multiple accounts, hospitals in  Florida, Texas, and Arizona are hitting their capacity in terms of intensive care unit (ICU) beds.
Given the current climate, it makes sense that you might ask, 'what is telehealth?' The Health Resources Services Administration defines telehealth as the "use of electronic information and telecommunications technologies to support long-distance clinical healthcare."
Telehealth isn't just clinical, however. It also supports remote non-clinical activities like administrative meetings, healthcare provider training and continuing medical education.
DOES MEDICARE PAY FOR TELEHEALTH SERVICES?
We will address how telehealth works and why it is essential to keep healthcare providers safe shortly. Right now, the most important question is, 'does Medicare pay for telehealth services?' The answer is yes, thanks to a change necessitated by the coronavirus.
Yet what sets iTi's telehealth service apart is the option to include qualified and certified medical interpreters, which are available 24/7 for remote video conferencing.
Why does having professional medical interpreters matter?  It matters because roughly 26 million people over the age of 5 – a number greater than the population of Australia – are considered to have Limited English Proficiency (a person is classified as having Limited English Proficiency when they report speaking English less than "very well)." *
Here is the real kicker: according to a 2018 study by the journal Health Equity, 15% of LEP patients are 65 or older (roughly 3.8 million people) and more than 34% (about 8.5 million) are insured by Medicare or Medicaid.
iTi's medically trained interpreters will ensure your team is able to care for LEP patients who otherwise might choose a risky in-person visit in order to better deal with communication issues compounded by the current social distancing guidelines.
Preventing a scenario like that is what makes iTi's video remote interpreting with medically trained interpreters vital during these unprecedented times. iTi's team of skilled interpreters have completed at least 40 hours of training and are capable of servicing 250 + languages.
This service is critical to LEP patients, who often struggle to get quality care during in-person doctor's visits due to language barriers. Miscommunication with these LEP patients can lead to unintended outcomes in even the most ideal circumstances. In this climate, a misunderstanding caused by a language barrier could have serious public health consequences.
For instance, an asymptomatic LEP patient undergoing a routine "visit" without an interpreter could go undetected and spread the coronavirus. Now more than ever, having professional medical interpreters available is a necessity.
For more information on the benefits of medical interpreters check out our free white paper on the subject.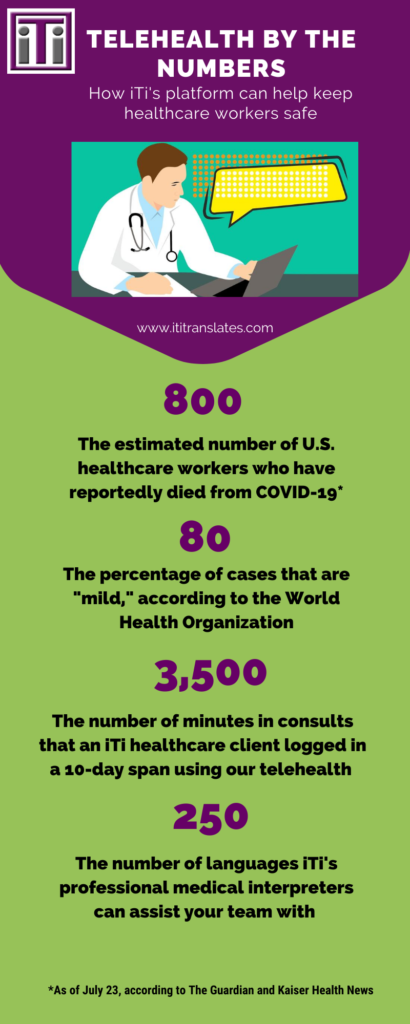 HOW DOES TELEHEALTH WORK?
We've established that Medicare covers telehealth services. The next question many people have is, "how does telehealth work?"
The process typically starts with a 5-10 minute virtual "check-in," which allows healthcare providers to decide if an office visit is needed. This is ideal considering roughly 80% of COVID-19 cases are mild or "asymptomatic," according to the World Health Organization, which means patients can be assessed without the risk of an in-person visit.
In addition, people who need non-COVID-19 related attention can do so from the comfort of their home, rather than turning waiting rooms and ERs into breeding grounds for new cases.
Along with social distancing, telehealth likely played a key role in making sure our healthcare systems did not get overwhelmed during the beginning stages of the pandemic. Now, with cases spiking and ICU beds near capacity in some hospitals, telehealth services will once again be in demand.
WHAT ARE THE BENEFITS OF TELEHEALTH?
Telehealth can once again help to relieve some stress from an overburdened healthcare system, while also addressing testing supply shortages, but what are the other benefits of telehealth?
The main one is this: remote doctor's visits have been vital to keeping healthcare providers from becoming patients. Roughly 800 healthcare workers in the U.S. alone appear to have died from COVID-19, according to a joint project run by the British newspaper The Guardian and Kaiser Health News.
The CDC does not identify individuals, and a comprehensive list does not exist.
HOW TELEHEALTH IS USED IN HEALTHCARE
How is telehealth used in healthcare? We have you covered.
iTi's telehealth phone and video platform is HIPAA compliant and features real-time reports, single sign-on and skills-based routing and escalation.
With iTi's HIPPA compliant telehealth service you can manage and schedule, among other things:
COVID-19 consults

Primary care

Counseling

Oncology follow-ups

Dietitian consults

Infectious diseases
One major healthcare client logged more than 3,500 minutes of consults in a 10-day span in March, which is the type of efficiency helped "flatten the curve" in the early portion of the pandemic. That same kind of productivity will be needed going forward given rise in cases across the country.
"iTi was able to shift our services from in-person interpreting to video and telephonic platforms very quickly due to COVID-19," said iTi's Manager of Interpreter Operations, Bill Raymond. "This pivot in business was to keep the interpreters, clients, and service recipients safe while still providing the high quality of service that is expected from iTi."
iTi's telehealth service allows on-location staff to:
* Communicate with remote teams
* Manage patient queues
* Send patients into exam rooms
* Manually re-route consults
* Track response times
As for how to get started, iTi's telehealth platform is similar to our pre-scheduled and on-demand video remote interpreting services, which use the following HIPAA compliant platforms (and, no, FaceTime is not on this list):
* Google Classroom
* Google Hangouts
* Microsoft Teams
* Skype for Business
* Zoom
* Kudo
* WebEx
* Doxy.Me
* Go-To-Meeting
WILL TELEHEALTH CONTINUE AFTER COVID-19?
The question going forward is: will telehealth continue after COVID-19? There is a strong likelihood it will.
It is true that COVID-19 has brought attention to telehealth, but the need for it is not a new phenomenon and it does not appear telehealth will go away once there is a vaccine.  A bill was introduced in mid-June that would assure Medicare covers telehealth permanently for certain services even after the pandemic is over.
The reason for that is demand for telehealth was present prior to the pandemic. According to Global Market Insights, it was a $45 billion business in 2016 and will reach roughly $175 billion by 2026.
The added bonus with iTi's platform is it includes the ability to service the nearly 50 million LEP patients over the age of 5 that will be living in the U.S. by the year 2026.*
Telehealth is the best option now, but iTi can provide both virtual and in-person services that will greatly benefit your facility.
Professional medical interpreters improve the quality of care provided to LEP patients and are proven to lower re-admission costs. The peer-reviewed journal Medical Care stated in 2017 that professional interpreters helped one hospital save more than $160,000 in re-admission costs.
Of course, for now the goal is to keep patients from being admitted unless absolutely necessary.  In order to do so, inquire about our fully HIPAA compliant telehealth services. iTi's platform features minimal infrastructure costs and the option to include a team of professional medically interpreters available 24/7 to service more than 250 languages.
Be sure to also contact us to inquire about our over the phone interpreting, translation and video remote interpreting services.
[iti-button url = "https://www.ititranslates.com/blog-quote-request-form/" text = "Request a Quote"]
*last edited July 27
Sources: https://www.usatoday.com/story/news/nation/2020/06/30/covid-cases-states-pausing-reopening-plans-list/3284513001/; https://www.cnn.com/2020/06/10/health/us-coronavirus-wednesday/index.html; https://www.globenewswire.com/news-release/2020/04/14/2015616/0/en/Telemedicine-Market-demand-to-reach-USD-175-Bn-by-2026-Global-Market-Insights-Inc.html; https://www.migrationpolicy.org/article/limited-english-proficient-population-united-states/; https://www.who.int/emergencies/diseases/novel-coronavirus-2019/situation-reports; https://www.liebertpub.com/doi/full/10.1089/heq.2017.0036; https://www.ncbi.nlm.nih.gov/pmc/articles/PMC5309198/