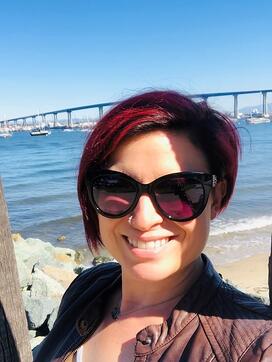 Welcome to our Translator Spotlight series! We look forward to sharing with you the real people behind the computer screen, the translators who put in knowledge, expertise and care into making every translation spot on. Each month we feature a Q & A with one translator who has stood out for going above and beyond. This month our interview is with German translator, Marion Rhodes.
Please describe your cultural background:
I grew up in Germany and developed a love for languages in high school, where I studied English and French for eight years. After spending a year in the United States as a foreign exchange student, I knew this is where I belonged, so I immigrated at the age of 19 and have been living in the U.S. ever since.
What is something you have translated that you are proud of?
Working primarily in the field of marketing, I am proud of all my translations, because each one is its own work of art. Most of the translations I do aren't straightforward and require a high degree of creativity. This creates a sense of "ownership" in each piece that leaves my desk – they become labors of love rather than just assignments.
What about marketing or more specifically, cross-cultural marketing, interests you most?
I was drawn to marketing because of its creative nature as well as the variety of work. I actually started out my career as a journalist, which was very similar in this regard, as every day brought something new. With each translation I perform, I learn about a different topic. One day, I may be translating about tourist destinations in Hawaii, and the next, I am writing a product brief for commercial alarm systems. My horizon keeps expanding, and I never know what will land in my inbox.
"Where I recharge my batteries"
How do you define "transcreation"?
Transcreation is the process of adapting content for a new target audience in a foreign language, making changes as needed to convey the original message and emotional impact within the context of a different cultural environment. It means re-creating a text in its essence, and while the outcome can differ significantly from the original, the intent remains the same.
Some people may be surprised that you've trans-created English to English marketing content. Can you talk about the most important factors in a transcreation project and what your process roughly looks like?
There are two key factors that define the success of a transcreation: The message must come across as intended, and it needs to be relevant and appropriate for the target audience. There is no point running a Thanksgiving-themed ad in countries where Thanksgiving isn't celebrated. So if a client came to me with that request, I would suggest finding a similar theme that might resonate more with the people in the target country (e.g., fall) and tailor my transcreation to that.
I usually read all reference documents first (style guides, previous translations, existing foreign language documents, etc.), and then look at the provided source text. If it is very short, such as a slogan or tagline, I think about what the client wants to express with it and create a mind map in the target language around this topic. This helps me find ideas for a slogan or tagline that conveys the same idea, but maybe in much different words.
If it's a longer text that needs to be transcreated, I usually work through it like a regular translation in my CAT tool, with the difference that I tend to merge several sentences or whole paragraphs and translate them "out of order" in a way that still says essentially the same thing but sounds and flows better in the target language. If I stumble across something that would not work for the target culture, I flag it to the client. Once I have translated the entire text, I usually put the source text away and read my translation as a standalone piece – preferably on the next day or at least after a few hours of doing something else. This is when I typically make significant changes that take my text from a translation to a transcreation – rearranging things, cutting parts from the original, saying things with different words, etc. In the end, I make sure I didn't alter the meaning anywhere and have retained all relevant information before I submit my work to the client.
"
"My Why"
Describe your workflow as you translate documents.
My translation workflow is very similar to the workflow for longer transcreations described above; however, I don't take as many liberties with deviating from the source text. When I read over my first draft, I make sure I have translated all elements of the original text, and I don't cut or reword things dramatically unless there is a good reason to do so, in which case I flag it to the client.
As with my transcreations, I like to let my translations "rest" for a while before I do my final edits, and I prefer to do so on paper rather than on the computer. I like to sit in my backyard (living in Southern California, that's possible year round) and go over the hard copies with a red pen, then return to the computer simply to implement my changes. This process doesn't work so well for my transcreations, unfortunately, as the changes are usually much more extensive.
"My summer office"
Do you have any stories of things lost in translation?
A few years ago, I was hired to re-translate the website of an online hotel booking service from English into German. There were many things lost in translation, but one thing I still remember was that the original translator had translated the word "commission" as "Kommission" throughout the site. It's a valid translation when you're talking about the European Commission, for instance, but in this case, the word referred to the remuneration the service provider would receive for each booking arranged through its site. The correct German term for this is "Provision."
What advice would you give for people who are considering the career of a professional translator?
If you want to be a translator, make sure you're cut out to be a solopreneur. The language part is only one aspect of the job – there's also lots of marketing, accounting, self-directed training, and self-discipline involved!
What's your favorite cultural dish?
I absolutely love Thai curries. As far as German food is concerned, my favorite is "Käsespätzle," which is basically our version of mac and cheese – but so much better! Instead of macaroni, we use little dumpling noodles, melt real cheese into them, and top it all off with caramelized onions. It's simple but delicious.
All photos are property of Marion Rhodes