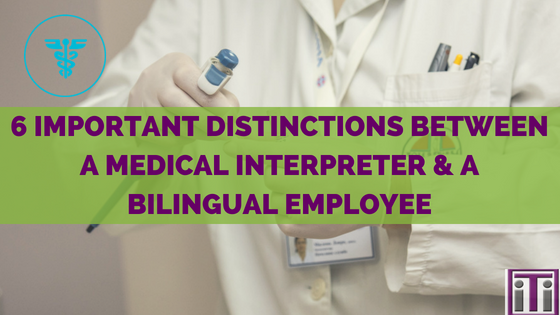 With nearly 70 million people in the United States speaking a primary language other than English, odds are you are encountering more and more LEP (Limited English Proficient) patients every day. Because a patient's well-being is on the line, healthcare providers must assist them as quickly and effectively as possible.
At times, you may be tempted to call upon the closest bilingual staff member to help interpret.  This could be a grave error.  An untrained interpreter could omit or incorrectly interpret words or phrases, which could severely impact the effectiveness of the appointment.
How can you ensure a bilingual staff member is qualified to help facilitate these important conversations between providers and patients, so that you can take advantage of their linguistic skills?  For this to be a viable option, the staff member should go through the proper channels to ensure language competency and that vital standards are being met.
Six Differences Between Bilingual Employees and Professional Interpreters
1. Different Roles and Environments
Being fluent in multiple languages is a wonderful skill, and it also offers a unique understanding of a different culture, which has become an increasingly valuable asset in today's multicultural society.
But it is too often assumed that being bilingual automatically provides the skills needed to interpret. The reality is that professional interpreters have distinct skills that bilingual employees often don't.
     Professional Interpreters
Interpreting is a career path which requires training and building experience over time. This leads to higher levels of professionalism and a complete mastery of both languages. The interpreter will also demonstrate a high degree of cultural understanding, which is arguably just as important as the language syntax itself.
The expertise the interpreter specializes in is a critical variable as well.  For example, a legal interpreter and a qualified medical interpreter would each require an extensive knowledge base specific to their area of expertise. Each would be confident in their respective industry's terminology and any possible nuances that a bilingual employee might miss.
     Bilingual Employees
Unless they have received the correct training, an employee may lack the experience that includes medical terminology in the target language. One unknown medical term can render a conversation completely inaccurate at the cost of the patient's well-being. They could add or omit words in the conversation, insert their own personal bias, and are likely not trained nor experienced with the art of a facilitating a conversation between two parties.
2. Relationship with the patient
While staff is generally encouraged to be friendly with the patient, this can sometimes have unintended adverse effects on overall communication. For a caregiver, helping the patient feel comfortable is a desirable skill.
For an interpreter, it's vital to keep the interaction professional. There should be no private conversations before, after or during the interpreting session. The interpreter's sole purpose is to interpret everything that is being communicated without adding or subtracting anything. In addition, interpreters should never be alone with a patient in order to avoid accidentally influencing the conversation or any perceived bias.
Sustainable & Scalable Language Access Programs For Hospitals  
3. Focus
When communicating in different languages, there are often different ways a phrase can be conveyed. A professional interpreter does not take any freedoms when it comes to wording, because their job is to convey information to the patient exactly as it was said, word for word.
Even though some language nuances may seem negligible, different cultures can have vastly different interpretations of seemingly simple words. Not only do the words and context need to be taken into consideration, but the tone and register need to be understood as well.
4. Memory and Retention
Some key skills that an interpreter constantly works on refining are memory, retention, and concentration.
Interpreters must absorb and retain a lot of information in a short time, all while choosing the most accurate way to convey the information. Conversations don't always go at a slow and relaxed pace, especially within the healthcare setting. An interpreter might find him/herself in an urgent situation where the rate of speech requires the interpreter to go into "overdrive" mode.
Interpreters familiar with these high-risk situations have the skills necessary to keep up in demanding and fast-paced circumstances. While these scenarios are not the norm in medical environments, someone who is simply bilingual will struggle to keep up and may accidentally omit crucial details.
It is essential for an interpreter to convey every single detail in the original tone and register. Effective interpreters will employ a variety of methods to continually enhance their memory, retention, and focus techniques.
5. Principles and Ethics
Interpreting, like any other profession, comes with its own set of best practices, knowledge bases and code of conduct. A bilingual individual who is unfamiliar with interpreter principles may unintentionally make errors, such as asking patients their own questions and answering questions on their own instead of interpreting them for the healthcare provider.
They may break the most basic rule of interpreting: always speaking in the first person. An interpreter's job is solely to relay the messages between the patient and healthcare provider, not to adding or omitting anything, while maintaining the flow of the conversation.
The interpreter can be viewed as an information relay station, one that should never become the source of the information. In addition, all trained interpreters adhere to national standards of practice as well as a nationally-recognized and practiced code of ethics. The average bilingual individual will have no knowledge of these industry rules and standards.
6. Accuracy and Thoroughness
Interpreters take many steps to ensure the accuracy of the dialogue. Before a session begins, the interpreter will introduce him/herself to the patient as the person that will help them communicate with the healthcare provider.
Creating an environment in which all parties know what to expect ensures the patient is comfortable to ask questions and raise any concerns to the healthcare provider. After this initial comfort level is established, the interpreter becomes a neutral participant in the conversation, interpreting information word-for-word.
To ensure accuracy, the interpreter will stick to standardized forms of the language while avoiding dialects and informal tones. Healthcare providers can also assist with accuracy by avoiding analogies or idioms. Finally, the interpreter will make sure that the patient is leading the discussion and controlling the flow of conversation at all times.
Repairing the Disconnect  
Training and certifying your bilingual staff is a great way to improve the patient experience, decrease hospital costs, and have a quality back-up option when no other language solutions are available. However, it should be noted that while trained interpreters and bilingual employees have different skill sets, bilingual employees have the capacity to become qualified medical interpreters or simply provide care in the target language.
These six distinctions highlight the stark difference between bilingual staff members and professional interpreters. Each of these roles has its own strengths and weaknesses, and should be recognized as a unique and valuable part of the medical environment.
iTi | Medical Interpreters  
The dedicated experts at Interpreters and Translators, Inc. have extensive experience with implementing language access solutions for healthcare systems. We are HIPAA compliant and guarantee full confidentiality with every interaction between our organizations. We work with qualified medical interpreters, and our translators have extensive medical translation experience. You can rest easy that nothing with ever be lost in translation when you work with team iTi.
We have partnered with many healthcare systems to fully implement language services and support the training of staff. If patient satisfaction and health equity are priorities for your healthcare organization, please feel free to contact us for a complimentary consultation to assess which solution will be a great fit. 860-968-6777.
Want to read a related post? Check out "Dos and Dont's of Medical Translation".
Originally published February 9, 2016. Updated for freshness and clarity September 8, 2022.